Nordic Lichen Flora. Vol. 6: Verrucariaceae 1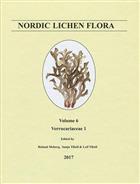 Description:
Text English. The sixth volume of Nordic Lichen flora includes genera in the family Verrucariaceae, covering 64 species from the genera Atla, Catapyrenium, Clavascidium, Dermatocarpon, Henrica, Heteroplacidium, Involucropyrenium, Placidiopsis, Placidium, Polyblastia and Sporodictyon.
Other titles from the series : Nordic Lichen Flora
You may also like...