Notodontidae and Oenosandridae (Lepidoptera) (World Catalogue of Insects 11)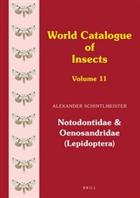 Description:
This catalogue includes 4415 species in 532 genera, which is about 1000 species more than included in any previous catalogue. Contains 7434 names of taxa. 27 new synonymies at genus level and 72 at species group level. Changes in status to 15 taxa . One Neotype and 24 Lectotypes are designated to stabilize the nomenclature. In line with recognized homonymies 4 replacement names are proposed. The catalogue also includes 107 new combinations of Notodontidae. The exact type-locality of a taxon as well as the depository of the type is given, where traceable.
Other titles from the series : World Catalogue of Insects
You may also like...