Odonata: Biology of Dragonflies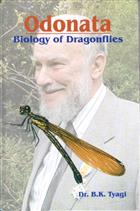 Description:
23 articles written by expert odonatologists from different parts of the world: 1. Professor Bastiaan Kiauta - an extraordinary and outstanding odonatologist. 2. Studies on neotropical protoneuridae. 20. Neoneura Kiautai spec. nov. from Southeastern Brazil (Zygoptera, protoneuridae). 3. Three new damselfly species from Papua New Guinea (Zygoptera: megapodagrionidae, coenagrionidae). 4. Dragonflies from the Okavango swamps (Botswana, Southern Africa) in winter. 5. Cordulegaster insignis (Schneider, 1845) in Bulgaria with notes on its biology and ecology. 6. The dragonfly fauna of the Shivapuri Hills, Nepal (Odonata: zygoptera, Anisozygoptera, anisoptera). 7. The composition and history of Siberian odonate fauna. 8. The dragonflies of forest-steppe in West Siberia: fauna, ecology and biology. 9. Odonata of Mexico revisited. 10. Odonata inventories in British Columbia, Canada: determining the conservation status of odonata species. 11. Cytogenetics of American Odonata. 12. Are the observed dispersal capacities in damselfly species sufficient to cope with the ongoing rapid shift of climate zones?. 13. Local assemblage patterns of odonates in Central Choco, Colombian Pacific. 14. The expansion of crocothemis erythraea (Brulle, 1832) in Germany - an indicator for climatic changes. 15. Adaptationist approach of reproductive behaviour in Libellulidae: a case report on Diastatops obscura Fabricius. 16. Causes and costs of lamellae autotomy in damselfly larvae: a review. 17. Endemic odonates of the Western Ghats: habitat distribution and conservation. 18. Dragonflies of the Madurai Kamaraj University Campus (Tamil Nadu, India). 19. Larval and adult behavioural patterns of some odonata species from Dehradun Valley. 20. Coeliccia hoanglienensis spec. nov., a new platynemid damselfly from Hoang Lien mountains in the North of Vietnam (Zygoptera: plastinemididae). 21. Observations on mating and oviposition behaviour of Tetrathemis platyptera Selys, 1878. 22. About the odonata ethnic names in the Serbian linguistic area. 23. Discovering the dragonfly wealth of Kerala - the God's own land - in South India: a travelogue
You may also like...