Ophrys: The Bee Orchids of Europe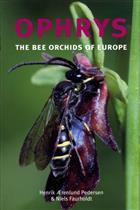 Description:
An easy to use, comprehensive introduction to the genus Ophrys in Europe. It can be used as a field guide (with keys, descriptions and numerous colour photographs) as well as a standard reference (with chapters on structure, biology, evolution and conservation). The classification is based on a broad species concept, and offers an alternative to the finely split classifications of the genus that prevail in most recent field guides. Includes a chapter on planning excursions to see Bee Orchids and details on cultivation.
You may also like...