Revised Illustrated Checklist. Orchids of Chios, Inouses & Psara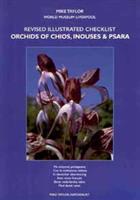 Description:
2nd edition. Text English, Greek, German, Italian, French, Dutch and Danish. This updated checklist reflects considerable changes since the original publication in 2005. 21 taxa have been deleted from the list and 17 new ones added, including 8 newly described species. All 72 taxa illustrated by 4 col photos including whole plants, flower heads and close-ups of individual flowers
You may also like...