Otters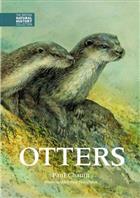 Description:
Otters in this country are a conservation success story. When the author first started studying otters their numbers were so low that they had disappeared entirely from most of England. Over the last forty years they have recovered until, in 2011, otters finally returned to Kent, and are once more present in every English county. This book includes the results of recent research studies and comments on what is now known about the causes of the decline and the eventual recovery. Covers all aspects of otter biology, plus their relationship with the released North American mink.
Other titles from the series : The British Natural History Collection
You may also like...