Owls of the World: A Photographic Guide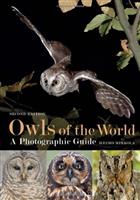 Description:
2nd edition, including recent changes to owl taxonomy and with full descriptions (and images) of a number of new species.
This book is the ultimate photographic resource dedicated to the identification of these largely nocturnal birds of prey. Contains lavish and spectacular photography from dozens of the world's finest natural history photographers, covering all of the world's 268 species of owls; particular attention is given to subspecific differences, sexing and ageing. The photos are accompanied by concise text on the identification, habitat, food, distribution and voice of these birds, along with accurate range maps.
This is the definitive work on owl identification.
Other titles from the series : Helm Photographic Guides
Click to view all titles in this series...
Gorman, G.
Price £40.50
(Save £4.50)

Brewer, D.
Price £40.00
(Save £5.00)

Kirkconnell, A.; Bradley, P.E.; Rey-Millet, Y-J.
Price £24.00
(Save £6.00)
You may also like...