Pacific Salmon Life Histories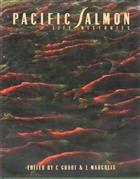 Description:
Brings together for the first time, and in a comprehensive form, most of the available biological information on the seven species of Pacific salmon. Chapters on the life history of the Sockeye Salmon, R. L. Burgner; Pink Salmon, W. R. Heard; Chum Salmon, E.O. Salo; Life History of Chinook Salmon, M.C. Healey; Coho Salmon, F.K. Sandercock; Masu and Amago Salmon, Fumihiko Kato. An invaluable source of information for students and teachers of biology and fisheries science and those in the fishing and aquaculture industry.
Condition
In d/w. Notes to endpaper, some underlining, highlighting and annotations to text. Fair.
You may also like...