Pheidole in the New World: A Dominant, Hyperdiverse Ant Genus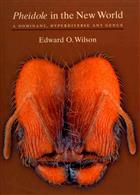 Description:
List price £114.95. This abundant and diverse genus of ants ranges from the northern United States to Argentina, and includes one-fifth of the known ant species of the Western Hemisphere. In this book E.O. Wilson untangles its classification for the first time, characterizing all 625 known species, 341 of which are new to science. Summary of natural history for each species. General account of hyperdiversity. A CD-ROM contains digital images of type specimens
You may also like...