Pillbugs and other Isopods: Cultivating Vivarium Clean-up Crews and Feeders for Dart Frogs, Arachnids and Insects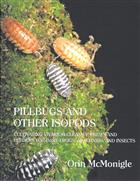 Description:
Spectacular cultivars and amazing species represent an often forgotten group of backyard arthropods. In recent years the beautiful peach pillbug, zebra armadillo-bug, and Dalmatian isopod, among others, have burst on the scene in a growing hobby. Isopods main use in captivity is as food for reptiles, amphibians and invertebrates and also as clean-up crew for terrariums and paludariums - this book gives inforamtion on these spectacular beauties, their simple husbandry, and historical cultivation
You may also like...