Woodlice and Waterlice (Isopoda: Oniscidea & Asellota) in Britain and Ireland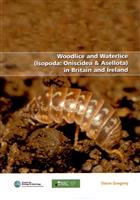 Series : BRC Atlases
Publisher : CEH
Illustrations : 39 col photos, 53 maps
Description:
A comprehensive synthesis of the information available on Isopods within Britain and Ireland (40 species of woodlice & 4 species of waterlice). Presents the results of the Non-marine Isopod Recording Scheme to the end of 2007. Species accounts provide details on identification and distribution, habitat and associated species
Other titles from the series : BRC Atlases
You may also like...