Piltdown, a Scientific Forgery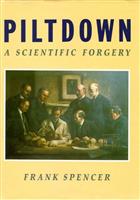 Description:
Based on research by Ian Langham (1942-1984). The fragments of a skull found in the gravels at Piltdown in Sussex in 1912 were presented as the fossil remains of an early human form, and as such created a sensation at the time. During the next 40 years it became increasingly difficult to reconcile the Piltdown remains with later additions to the human fossil record, and there was growing suspicion about their authenticity. In the 1950s detailed scientific examination of the Piltdown material demonstrated conclusively that it had been deliberately faked. There was much speculation about the identity of the hoaxer, but no clear-cut evidence was forthcoming and the question has since remained in abeyance. Dr Spencer has made an extensive study of the original documents and the other available evidence, which he presents in this book, together with a new case for the identity of the individual responsible for the forgery. This volume and its companion, "The Piltdown Papers" will be of interest to all those studying the history of the 20th century and the nature of scientific enquiry.
Condition
Vg in d/w (a few slight abrasions to front panel; short tear to foot of rear panel). From the library of Dr. Keith H. Hyatt of the Natural History Museum, London, with his name to the front pastedown. A few relevant newspaper articles looseley inserted.
Other titles from the collection : Keith Hyatt
You may also like...