Plant Evolution in the Mediterranean: Insights for conservation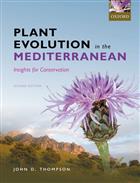 Description:
Second edition. Since the first edition of this book published in 2005, there has been an immense amount of new and fascinating work on the history, ecology, and evolution of the Mediterranean flora. During this time, human impacts have continued to increase dramatically, significantly influencing both the ecology and evolution of the region's biota. This timely and comprehensive update of the original text integrates a diverse and scattered literature to produce a synthetic account of Mediterranean plant evolutionary ecology. It maintains the accessible style of its previous version whilst incorporating recent work in a new structural framework. This is not a traditional plant science book per se, but a novel integration of history, ecology, biogeography, and evolution, all set in the context of a dramatically increasing human footprint. There is a particular emphasis on the role of human activities as an ecological factor and their subsequent impact on plant evolution. Conversely, it demonstrates how an understanding of the evolutionary ecology of the region's flora can be used to provide insights into its future conservation and management.
Plant Evolution in the Mediterranean is aimed at all those who are interested in the biology of the Mediterranean region, whether it is taxonomy, ecology, evolution, conservation policy and management, or the regional history of its biodiversity in general. It will be of relevance and use to all graduate students and researchers of Mediterranean-type ecosystem ecology and geography, as well as professional ecologists, evolutionary biologists, conservation biologists, and environmental practitioners requiring a concise, authoritative overview of the topic.
You may also like...