Pocket Guide to Insects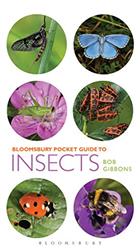 Description:
This guide privides comprehensive detail on 240 of the most conspicuous British species. Illustrated by 200 of the author's photographs. Each account includes a general introduction, the flight period, habitat and distribution, similar species.
Other titles from the series : Bloomsbury Pocket Guides
Click to view all titles in this series...

Harris, J.C.
Price £9.00
(Save £1.00)

Gibbons, B.
Price £9.00
(Save £1.00)
You may also like...