Pollinators and Pollination: Nature and Society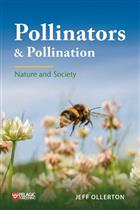 Description:
A unique and personal insight into the ecology and evolution of pollinators, their relationships with flowers, and their conservation in a rapidly changing world.
The pollination of flowers by insects, birds and other animals is a fundamentally important ecological function that supports both the natural world and human society. Without pollinators to facilitate the sexual reproduction of plants, the world would be a biologically poorer place in which to live, there would be an impact on food security, and human health would suffer.
Written by one of the world's leading pollination ecologists, this book provides an introduction to what pollinators are, how their interactions with flowers have evolved, and the fundamental ecology of these relationships. It explores the pollination of wild and agricultural plants in a variety of habitats and contexts, including urban, rural and agricultural environments. The author also provides practical advice on how individuals and organisations can study, and support, pollinators.
As well as covering the natural history of pollinators and flowers, the author discusses their cultural importance, and the ways in which pollinator conservation has been portrayed from a political perspective. The book draws on field work experiences in South America, Africa, Australia, the Canary Islands and the UK.
For over 30 years the author has spent his career researching how plants and pollinators evolve relationships, how these interactions function ecologically, their importance for society, and how we can conserve them in a rapidly changing world. This book offers a unique and personal insight into the science of pollinators and pollination, aimed at anyone who is interested in understanding these fascinating and crucial ecological interactions.
Other titles from the series : Pelagic monographs
You may also like...