Prime Butterfly Areas in Bulgaria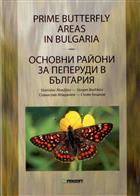 Description:
Bilingual English/Bulgarian. Identifies and describes the most important sites for butterflies in Bulgaria, implementing a simple method using target species, in order to help the definition of the Bulgarian part of the European Union's NATURA 2000 Network. Fifty NATURE 2000 sites are listed and described. Richly illustrated by colour photos of species and habitats. Species listings, data on conservation and basic GIS data included on CD.
Other titles from the series : Series Faunistica
You may also like...