Provisional Atlas of the Aculeate Hymenoptera of Britain and Ireland. Part 3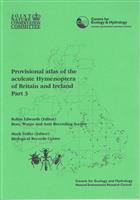 Description:
Information on distribution, conservation, status, habitats, flight period, nesting and feeding biology, parasites for 59 species of bees, wasps and ants
Condition
Vg. Owner's name to title.
Other titles from the series : Provisional Atlases
You may also like...