Reading the Shape of Nature: Comparative Zoology at the Agassiz Museum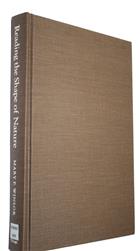 Description:
First edition. Recounts the turbulent early history of the Museum of Comparative Zoology at Harvard and the contrasting careers of its founder Louis Agassiz and his son Alexander. Through the story of this institution and the individuals who formed it, the author explores the conflicting forces that shaped systematics in the second half of the nineteenth century.
Condition
8vo, orig. cloth. Good ex-lib.: from an institutional library, neat ink stamp to title page and final page only.
You may also like...