Species, Science and Society: The Role of Systematic Biology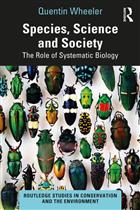 Description:
This book presents an engaging and accessible examination of the role of systematic biology in species exploration and biodiversity conservation.
Our planet and systematic biology are at a crossroads. Millions of species face an imminent threat of extinction, and, with knowledge of only a fraction of earth's species we are unprepared to respond. Species, Science and Society explains what is at stake if we continue to ignore the traditional mission of systematics. Rejecting claims that it is too late to document earth's species, that molecular evidence is sufficient and that comparative morphology and the grand traditions of systematics are outdated, this book makes a compelling argument for a taxonomic renaissance. The book challenges readers to rethink assumptions about systematics. Shattering myths and misconceptions and clarifying the role of systematics in confronting mass extinction, it hopes to inspire a new generation of systematists. Readers are given a deeply personal view of the mission, motivations and rewards of systematic biology. Written in narrative style with passion, wit and optimism, it is the first book to question the growing dominance of molecular data, defend descriptive taxonomy and propose a mission to discover, describe and classify all species. Our evolutionary heritage, the fate of society and the future of the planet depend on what we do next.
This book will be of great interest to academics, researchers and professionals working in systematics, taxonomy and biodiversity conservation, as well as students with a basic background in biology.
You may also like...