Revision of the genus Thricops Rondani (Diptera: Muscidae)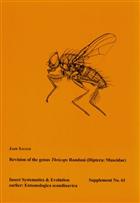 Description:
Revision of the world fauna of the genus Thricops. 44 valid species and two subspecies are recognised. Species descriptions and genitalia illustrations for all species (males and females). Six new species are described. Keys for both sexes
Other titles from the series : Entomologica Scandinavica Supplements
You may also like...