The Swedish Araneae. Part 2. The families Dictynidae to Salticidae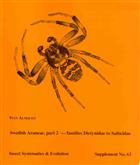 Description:
Each species illustrated with one plate of figures, showing both the habitus and details important for determination. Chapters provide - illustrated, description of spider morphology together with a complete list of all Swedish species.
For each species: description of male and female; distribution (for Sweden the distribution is mapped); habitat; biology, including mating behaviour, feeding and season of appearance in Sweden
Other titles from the series : Entomologica Scandinavica Supplements
You may also like...