Revision of the Pilargidae (Annelida: Polychaeta), including descriptions of new species, and redescription of the pelagic Podarmus Ploa Chamberlin (Polynoidea)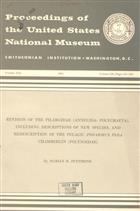 Description:
Proc. U.S. Nat. Mus Vol. 118
Condition
Small ink stamp to wrapper
Other titles from the series : Proceedings of the United States National Museum
You may also like...