Revue Française de Lépidoptérologie (L'Amateur de Papillons). Vol. IX-XVI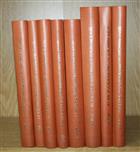 Description:
Text French. Vol. I of this journal was published in 1922 under the title L'Amateur de Papillons, and continued from 1938-1957 as Revue francaise de Lepidopterologie. Vol. XVI was the last to appear under this title.
Condition
8 vols, recent buckram, gt, orig. part wrappers retained, marbled endpapers. From the Library of British lepidopterist, Barry Goater (1930-2022), with his bookplate.
Other titles from the collection : Library of Barry Goater
You may also like...