Rhayader by Nature: The Wildlife of a Small Welsh Town and its Surrounding Countryside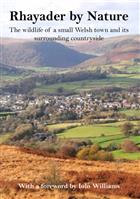 Description:
Introductory chapters on local habitats, geology and climate; chapters on the plants, birds, mammals, fish, reptiles and amphibians, butterflies and moths, dragonflies and other invertebrates that make up the rich wildlife heritage of Rhayader and its surrounding districts. Illustrated with colour photographs. Also includes suggestions and directions for walks and places to go to see wildlife.
You may also like...