Rocky Shore Name Trail (Identification Chart)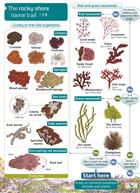 Description:
Fully encapsulated, fully waterproof version. Illustrated identification key to British seashore - an 8-panel laminated fold-out chart will help you to identify some of the seashore animals, lichens and seaweeds that you are most likely to see. It also describes some of the major environmental factors that influence them. It is suitable for children's visits to rocky shores and rock pool investigations.
Condition
Fully encapsulated
Other titles from the series : FSC IDENTIFICATION CHARTS
You may also like...