Rothschild's Reserves: Time and Fragile Nature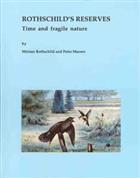 Publisher : Balaban Publishers
Published In : Israel
Illustrations : col photos, b/w photos, maps
Description:
Two distinguished naturalists trace the origins of conservation in Britain, and the creation of the Society for the Promotion of Nature Reserves (now the Wild Life Trusts) by Charles Rothschild.
The first national survey of potential Reserves was presented by Rothschild to the Government in 1915, but 40 years were to elapse before the plan was put into action with the founding of the Nature Conservancy. More than half of the 182 potential nature reserves selected by Rothschild have been damaged or destroyed.
The authors' timely and compelling story shows that the future of biodiversity in the U.K. depends on the protection of the natural world by the application of science combined with adequate financial support from the Government.
You may also like...