RSPB Spotlight Hedgehogs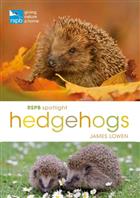 Description:
Much loved ... but about to be lost? The Hedgehog regularly tops polls of the UK's favourite animal, yet numbers in our countryside have halved this century. Generations of children have been captivated by Beatrix Potter's The Tale of Mrs Tiggy-Winkle, though our complex and contradictory relationship with the Hedgehog is also characterised by persecution and death. This unmistakable, spiny mammal is a 'gardener's best friend', but one that we rarely see alive and in our midst. In Spotlight: Hedgehogs, James Lowen reveals what a Hedgehog is and how it lives, unveiling the secrets of its lifestyle, such as foraging and hibernating, rolling into a ball and building a nest. He also investigates the relationship between Hedgehogs and people - from film and fun to conservation and crisps - and offers practical advice on how to find, watch and help these charming animals in the wild.
Other titles from the series : RSPB Spotlight Guide
You may also like...