RSPB Spotlight Frogs and Toads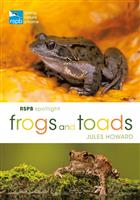 Description:
Scratch beneath the surface, and you will discover some of nature's weirdest creatures, amphibians whose ecology we are only now coming to understand. Spotlight Frogs and Toads is a compelling account of Britain's four native amphibian species: the Common Frog, the Pool Frog, the Common Toad and the rare and secretive Natterjack Toad. New research suggests that, in the next ten years, three out of four UK species are likely to be listed as threatened. Revealing a host of secrets, including how they migrate, what they eat, and how they got to the UK in the first place, Jules Howard inspires us all to look down, rather than up, in spring.
The Spotlight series introduces readers to the lives of our favourite animals with eye-catching colour photos and informative expert text.
Other titles from the series : RSPB Spotlight
You may also like...