Amphibians and Reptiles of Russia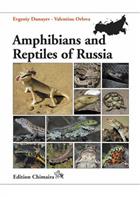 Description:
Revised and updated edition. The original edition has been completely updated, there is a distribution map for each species and the book has been supplemented with the most extensive bibliography (1062 citations) ever on herpetology in Russia.
Other titles from the series : Frankfurt Contributions to Natural History
You may also like...