A Guide to the Reptiles and Amphibians of Iran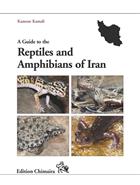 Description:
Revised and enlarged English edition of the original edition published in Farsi (2015). Foreword by Steven C. Anderson. The first comprehensive guide to this fauna in any Western language and far more than a translation of the original Persian; recently described taxa and additional photos have been added by the author. This volume is far more than a field guide, however, as it serves as a popular synopsis for the reptiles and amphibians of Iran and a summary of research by many authors over several decades. With the increasing interest in the natural history of Iran, this book should be of great service not only to visitors to Iran, but to naturalists interested in herpetology globally. Many species of all taxa are threatened by habitat destruction, population growth, climate change, pollution, and outright destruction. Amphibians and reptiles are among the least respected animals, but with knowledge comes understanding and concern, and this book should be a stimulus to such respect. This book will set the standard for future work on this fauna.
Other titles from the series : Frankfurt Contributions to Natural History
You may also like...