Sir Joseph Banks and the Plant Collection from Kew sent to the Empress Catherine II of Russia 1795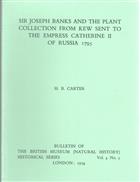 Description:
Bull. BM(NH) (Hist.) 4(5): 281-385.
Condition
Vg.
Other titles from the series : Bulletin of The Natural History Museum: Historical
Other titles from the collection : Ken Smith
You may also like...