Sommerfugle VI: Pyralidae Danmarks Fauna 48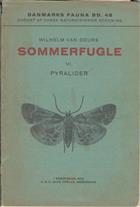 Description:
Text Danish. Buprestidae, Throscidae, Elateridae and Eucnemidae.
Condition
Orig. wrapprs, spine worn with loss to foot. A typescript english translation of the Introduction (pp. 1-8) is loosely inserted. From the library of W.G. Tremewan (1931-2016), with his name to title-page.
Other titles from the collection : The Library of W.G. Tremewan
You may also like...