Souvenirs Entomologiques: Etudes sur l'instinct et moeurs des insects. Serie 1-6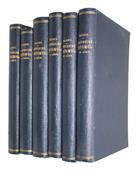 Description:
Text French. Ser. 1+3 - 2nd edition. Ser. 6 - undated [1899]. The first six of ten volumes. Serie 2 titled 'Nouveaux Souvenirs Entomologiques ...'
Condition
6 vols, 8vo, uniformly bound in cloth (slightly differing heights), gt title to spines. Occasional foxing. 1920s postcard showing a statue of J.H. Fabre, Avignon, inserted. Vg.
You may also like...