Systema Avium Rossicarum (Catalogue Critique des Oiseaux de l'U.R.S.S.) Vol. I: Accipitres - Striges - Passeres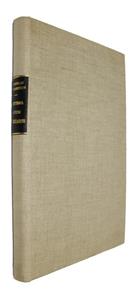 Description:
Text French. Material originally published in 'l'Oiseau et la Revue Française d'Ornithologie' 1933-1935. First of two volumes (vol. II was not published until 1960).
Condition
Recent cloth, leather title-piece to spine, attractive marbled end-papers. Fine.
Other titles from the collection : Henri Dirickx Library
You may also like...