Systematic revision of the Ecdytolopha group of genera (Lepidoptera: Tortricidae: Grapholitini) in the New World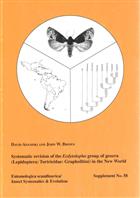 Description:
The New World genera Ecdytolopha Zeller, Gymnandrosoma Dyar, revised status, and Pseudogalleria Ragonot are revised. As currently defined, Ecdytolopha includes 10 species. Members of these three genera include pests of Citrus, Robinia, Macadamia, Pithecellobium, Theobroma, and Psidium
Other titles from the series : Entomologica Scandinavica Supplements
You may also like...