Taxonomic Revision of the Neotropical Tiger Beetle Genera of the Subtribe Odontocheilina. Vol. 2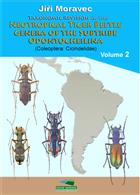 Description:
Vol. 2 provides a complete revision of the twelve remaining genera of the subtribe (Coleoptera: Cicindelidae), with 84 species and 1 subspecies. The genera comprise Mesochila Rivalier, 1969 (20 spp.: subgenera Mesochila s. str. (13 spp.), Eumesochila Moravec, 2018 (3 spp.), Paramesochila Moravec, 2018 (4 spp.)); Poecilochila Rivalier, 1969 (11 spp.: subgenera Poecilochila s. str. (8 spp.), Eupoecilochila subgen. nov. (2 spp.), Neopoecilochila subgen. nov. (1 sp.)). The other revised genera comprise: Beckerium W. Horn, 1897 (1 sp.); Brzoskaicheila Moravec, 2012 (2 spp.); Ronhuberia Moravec & Kudrna, 2002 (2 spp.); Mesacanthina Rivalier, 1969 (9 spp.); Opisthencentrus W. Horn, 1893 (1 sp.); Pentacomia Bates, 1872 (12 spp.); Cheilonycha Lacordaire, 1842 (3 spp. 1 subsp.); Pometon Fleutiaux, 1899 (2 spp.); Eulampra Chaudoir, 1848 (1 sp.); Oxygonia Mannerheim, 1837 (20 spp.). Chapters on material and methods, remarks on phylogeny and developmental stages (if known) and illustrative explanations of diagnostic characters are included. Redescriptions, differential diagnoses, keys to genera, subgenera, species-groups and species are provided with lectotype designations in relevant taxa. Each taxon is illustrated from type specimens and other material, with colour photographs of their habitus, diagnostic characters and variability. The distribution, biology and the behaviour of adults are treated with specifications of the localities and with simplified distribution maps.
You may also like...