Taxonomical and ecological descriptions of a species complexof zooplanktivorous and insectivorous cichlids from Lake Victoria / The generic classifification of the haplochromine cichlids of Lake Victoria East Africa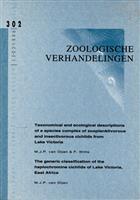 Description:
Text English. Zoologische Verhandelingen 302.
Condition
Wrappers. Vg.
Other titles from the series : Zoologische Verhandelingen
Other titles from the collection : Prof Jim Green
You may also like...