The American Cockerell: A Naturalist's Life, 1866-1948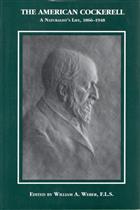 Description:
T. D. A. ('Theo') Cockerell was an internationally known scientist, a prolific writer, and a highly regarded teacher at the University of Colorado in Boulder. The elder brother of the noted scholar Sir Sydney Cockerell [and uncle of Sir Christopher Cockerell, inventor of the Hovercraft], Theo labored in relative obscurity in America while his brothers and their families were basking in the limelight of smart British society.
Theo became the greatest specialist on bees in the world. His contribution to the understanding of wild bees is monumental; he catalogued over 900 species in Colorado alone, and he assiduously collected them wherever he traveled. By 1938 he had published the names and descriptions of 5,480 new species and subspecies. Despite his accomplishments in entomology, however, T D A Cockerell resisted specialisation. He was also an early supporter of women's rights, a Morrisian socialist, an avid reader, and author of almost 4,000 published scientific papers, book reviews, and discussions of social issues.
Pieced together from T. D. A.'s little-known autobiographical writings, this book demonstrates this extraordinary individual's tremendous breadth of interest, competence, and talent. [In America he was an outspoken proponent of Darwinism, and assisted Alfred Russel Wallace (the co-discoverer of the theory of Natural Selection) in the revision of his famous book, 'Island Life'.
Condition
Fine in d/w.
You may also like...