The ants of Poland with reference to the myrmecofauna of Europe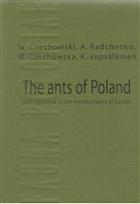 Description:
Text English. Updated and enlarged edition. Includes 103 ant species in 25 genera. Systematic checklist of the ant taxa of Europe; Faunistic catalogue of the ants of Poland; Characteristics of the myrmecofauna of Poland; Keys for identification (subfamilies, genera and species), for workers, queens and males. The keys to subfamilies and genera include all European taxa.
Other titles from the series : Fauna Poloniae (New Series)
Click to view all titles in this series...


Niedbala. W.
Price £55.00

You may also like...