The Aquatic Molluks of the Belgian Congo, With a Geographical and Ecological Account of Congo Malacology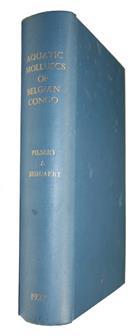 Description:
Bull. American Museum Natural History. Vol. LIII, Art. II: 69-602, plates X-LXXVII. Scientific Results of The American Museum of Natural History Congo Expedition, General Invertebrate Zoology, No. 10. Scarce.
Condition
Roy. 8vo, bound in buckram (lightly spotted), front wrapper bound at rear. Vg. From the library of Prof. J. Green with his name to endpaper.
Other titles from the collection : Prof Jim Green
You may also like...