The Banks /Cook Portfolio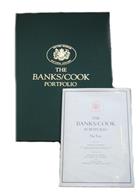 Description:
With essays by H.B. Carter and A.C.F. David, 'Sir Joseph Banks as the Father of Australia', 'Captain Cook's Second Voyage and his Chart of the Southern Hemisphere' with an Appendix 'The Banks Copper Engraving of the Great Pacific Ocean' and 'Franz Andreas Bauer'. Separate portfolio comprises of the following facsimiles: drawing of Waratah by F.A. Bauer; Banks' copper plate engraving of the Great Pacific Ocean; a chart of the Southern Hemisphere by J. Cook; transcription of letter from J. Banks to F. Bauer, 1791; portraits of J. Banks and J. Cook.
Condition
No. 19 of a limited edition. Text volume (Folio, 112pp) in d/w (small tear to top of front panel; in protective sleeve). Together with portfolio of facsimle plates (Imp. Folio, cloth, gt). Fine.
Other titles from the collection : Library of Pamela Gilbert