The Birds of Derbyshire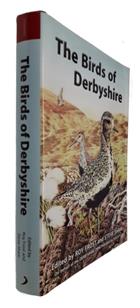 Description:
This book is the result of almost 20 years of endeavour by the Derbyshire Ornithological Society. It follows on from the only two previous books devoted to Derbyshire's birdlife, Whitlock (1893) and Frost (1978). It contains 319 accounts of species that have been reliably recorded in the county. Amongst those are 135 breeders for which distribution maps are given and over 100 are illustrated with black and white vignettes, includes many colour photographs.
Also included are sections on a history of Derbyshire ornithology, the Derbyshire Ornithological Society, ringing in Derbyshire, a general description of the county, a summary of Derbyshire statistics, changes to the county boundary, place names, the natural areas, a chronology of additions to the county list, fossil species, escaped and released species, unacceptable historic records, the breeding bird survey and a comprehensive gazetteer.
Condition
Vg in d/w.
You may also like...