The Birds of North Africa: from the Canary Islands to the Red Sea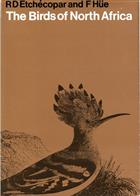 Collection : Prof Jim Green
Publisher : Oliver & Boyd
Published In : Edinburgh
Illustrations : 24 colour + 3 b/w plates, text figs and maps
Description:
Translated from the French edition of 1964. A guide to the birds of Morocco, Algeria, Tunisia, Libya, Egypt and the Canary Islands. Translated by P.A.D. Hollom. Illustrated by P. Barruel.
Condition
Find in vg d/w. Owner's name to endpaper.
Other titles from the collection : Prof Jim Green
You may also like...