The Great Lakes of the World (GLOW): Food-web, Health & Integrity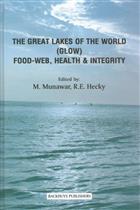 Description:
Most of the papers in this book came from a symposium, Exploring Great Lakes of the world (GLOW): Food-web dynamics, health and integrity. Covers African (Lake Malawi, Lake Victoria, Lake Tanganyika), Asian (Lake Baikal, Chinese Great Lakes, Lake Biwa, Lakes Matano & Towuti), South American (Lake Titicaca) and North American Great Lakes (Great Lakes, Lake Tahoe).
Condition
As new.
Other titles from the series : Ecovision World Monograph Series
Click to view all titles in this series...

Munawar, M.; Edsall, T.; Leach, J. (Eds)
Price £85.00

Munawar, M.; Munawar, I.F.
Price £95.00
You may also like...