Phytoplankton Dynamics North American Great Lakes. Vol. 1-2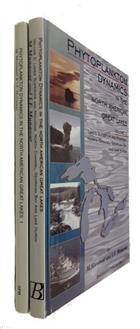 Description:
Vol. 1: Lakes Ontario, Erie and St. Clair; Vol. 2: Lakes Superior and Michigan, North Channel, Georgian Bay and Lake Huron.
Condition
2 vols. Fine. From the library of Prof. J. Green (1928-2016) with his name to endpaper.
Other titles from the series : Ecovision World Monograph Series
Click to view all titles in this series...

Munawar, M.; Edsall, T.; Leach, J. (Eds)
Price £85.00
Munawar, M.; Hecky, R.E. (Eds)
Price £95.00
You may also like...