The Braconid and Ichneumonid Parasitoid Wasps: Biology, Systematics, Evolution and Ecology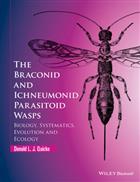 Description:
The Ichneumonoidea is a vast and important superfamily of parasitic wasps, with some 60,000 described species and estimated numbers far higher. Comprises the two families Braconidae and Ichneumonidae. Covers the same areas as Parasitic Wasps (Springer, 1997) (behaviour, physiology, development, anatomy, venoms, sex, ecology and evolution), but brought up to date (much new data has become available over the intervening years). This new book also focuses on this superfamily with which the author has great familiarity and provides a detailed coverage of each subfamily, emphasising anatomy, taxonomy and systematics, biology, as well as pointing out the importance and research potential of each group
You may also like...