The British Rubi: An Attempt to Discriminate the Species of Rubus Known to Inhabit the British Isles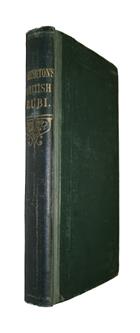 Description:
1st edition. Charles Cardale Babington (1808 –1895) was a botanist and archaeologist. He studied at St John's College, Cambridge, and while there met Charles Darwin. In1829 they argued over beetle specimens that a local dealer was selling.
Babington was later appointed chair of botany at the University of Cambridge in 1861. His major publications included: 'Manual of British Botany'(1843),'Flora of Cambridgeshire'(1860) and 'The British Rubi'(1869). In the introduction to 'The British Rubi' , Babington states "It was intended that a series of Quarto Plates should accompany this Essay. But as after much unavoidable delay it is still impossible for them to be very soon ready for publication, the Author has thought it unadvisable to defer the issue of the descriptions and remarks upon the species. He hopes on a future occasion to publish the plates as a distinct work." The plates were never published.
Condition
12mo, orig. blind-stamped cloth, neatly recased and rebacked preserving orig. backstrip, new endpapers. Some annotations and underlining to text; several small handwritten notes loosely inserted.
You may also like...