The Butterflies of Britain and Ireland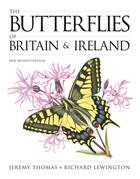 Description:
Revised 3rd edition of the classic book on British and Irish butterflies with fine colour illustrations of the life stages of all species by Richard Lewington. Includes updated distribution maps and the latest information on newly discovered species such as the Cryptic Wood White and the Geranium Bronze.
You may also like...
Still, R.; Harrop, H.; Stenton, T.; Dias, L.
Price £14.99
(Save £7.01)
Couzens, D.; Swash, A.; Still, R.; Dunn, J.L.
Price £12.99
(Save £5.00)