The Christmas Island Story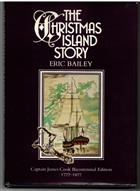 Description:
Provides an overview of the history of Chritmas Island in the Indian Ocean, since its discovery by Captain James Cook, use as a military base in both world wars and for nuclear tests during the 1950s. An appendix provides a list of bird species found on the island.
Condition
Vg in d/w. From the library of Prof. J. Green (1928-2016) with his signature to endpaper.
Other titles from the collection : Prof Jim Green
You may also like...