The Common Eider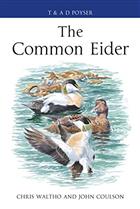 Description:
A comprehensive portrait of the Common Eider, with sections on taxonomy, habitats, breeding biology, population dynamics, diet and foraging, dispersal and migration, and conservation.
A common sight around the more northerly shores of the British Isles, the Common Eider is the largest duck in the northern hemisphere. The species is taxonomically interesting, with a range of well-marked subspecies reflecting the patterns of ice coverage during ancient glaciations, and these ducks have also provided the focus for a number of important behavioural studies, especially on feeding ecology and energy budgets.
Other titles from the series : Poyser Monographs
You may also like...